Friday, December 23, 2005
Nationals Roster (Wood for Church? - no)
Here's a good article by
CBS Sportsline
on the Nationals off-season activity, especially for people like me that have not been paying attention (in my case it is a trick to try to avoid all this ballpark news and the possibility that next year will be the Nationals final year).
Let's see, as of today, this is the
Roster
:
C: Brian Schneider, Alberto Castillo, Michael DiFelice
1B: Nick Johnson, Robert Fick (Larry Broadway - 40 man roster - in minors)
2B: Jose Vidro,
Marlon Anderson
, Alfonso Soriano,
Damian Jackson
(Bernie Castro)
SS: Cristian Guzman
3B: Ryan Zimmerman (Kory Casto?; Brendan Harris)
Utility: Jamey Carroll
OF: (There must be something wrong with the OF positions on the Nationals website)
LF: Tony Blanco
CF: Marlon Byrd (Frank Diaz), Brandon Watson
RF: Jose Guillen, Ryan Church, Tyrell Godwin
(Soriano -
not budging
and
not want to change positions
)
SP
:
1. Hernandez
2. Patterson
3.
Lawrence
(got in trade of Vinny Castillo)
4. Drese
5. Nobody or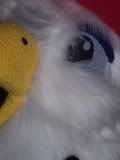 Bullpen
:
Cordero
Ayala
Eischen
Hughes
Majewski
Rauch
Bergmann
Rasner
---
Gone: Vinny Castilla (Trade), Brad Wilkerson (Trade), Junior Spivey (non-tendered), Termel Sludge (trade), Kenny Kelly (Released), John Halama (released), Hector Carrasco (free agent, signed elsewhere), Esteban Loaiza (free agent, signed elsewhere), Gary Bennett (free agent, signed elsewhere), Devi Cruz (free agent, signed elsewhere), Keith Osik (retired), Preston Wilson (free agent, highly unlikely he'll be back), Carlos Baerga (free agent) Tony Armas Jr? (rejected
arbitration
)
---
Ryan Church and Jose Vidro to Cubs for Kerry Wood?
Great addition to pitching staff, remove one player from crowd at 2B, but who'll play outfield?
Also, this apparently a rumor of no substance, according to the Nats bloggers ("The Vidro to the Cubs for Kerry Wood rumor has a life of its own." - Capitol Punishment's Chris Needham) and Bill Ladson (for MLB.com & Nationals): "According to a baseball source, there is no truth to the story in the Washington Examiner that the Nationals are talking to the Cubs about a trade that would bring Kerry Wood to the Nationals in exchange for second baseman Jose Vidro and outfielder Ryan Church."
---
Game by game review of first season by Washington Post.
---